Services
Room acoustics, noise control, engineering

Design, measurements, consultancy
ROOM ACOUSTICS PROJECTS
We define the acoustic requirements of a room, predict its acoustic properties and determine the acoustic elements.
NOISE CONTROL PROJECTS
We thoroughly examine the design. This includes estimating sound insulation ratings, identifying hidden transmission paths and suggesting efficient sound proofing solutions.
ACOUSTIC MEASUREMENTS AND TESTING
We are well supplied with acoustic measuring equipment. This allows us to carry out a wide range of room acoustics and noise control measurements.
ACOUSTICs CONSULTANCY
During the project planning phase, we review the adequacy of the design from the acoustics perspective, and propose the most efficient and economical solutions.
ROOM ACOUSTICS SIMULATIONS
Active research of room acoustics modelling assists us in the prediction of acoustic parameters, review of the design, and preparation of auralization samples.
ENGINEERING AND PROJECT INTEGRATION
Integration of technical equipment, meeting performance goals, optimisation and rationalisation – everything, down to the very last implementation detail.
ROOM ACOUSTICS ADAPTATIONS
We perform turnkey acoustic adaptations; we engage (if need be) other external expert consultants, draw up a plan of adaptation and carry it out.
CONSTRUCTION DESIGN AND SUPERVISION
We put at your disposal more than 30 years of experience in the most demanding of construction projects. To make yours better.
Dedication, cooperation, trust
We promise excellence in the services provided and hold ourselves to the highest business standards.
REFERENCE PROJECTS
About us
Experts in the field of acoustics
Vision
Our Mission
Our team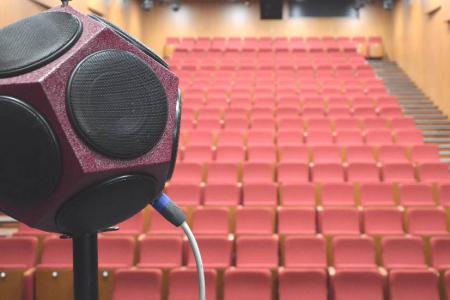 For more than 15 years, we at MK3 d.o.o. have been working in the field of construction design, supervision and investment management. Since no company exists in Slovenia that would deal with acoustics at the highest professional level, we saw it as an opportunity for our further development and growth.
Today, we are widely recognized for our work in the field of acoustics, and we can laud ourselves on many successfully completed projects. Positive client feedback is our motivation to strive towards fulfilling our vision: become an R&D-oriented regional point of reference for acoustic design, measurements, and consultancy.
ACOUSTICS IS NEGLECTED
Acoustics is being neglected! When designing a work or living space, retrofitting audio-systems, configuring noisy machines, etc., room acoustics is all too often not taken into consideration. This has a negative impact on the quality of living, our productivity and health, and the environment in general.
FUNDAMENTAL FUNCTIONALITY
Being acoustically adequate is the fundamental characteristic of any functional space! Unfortunately, the acoustic aspect is habitually not taken into account during the design phase. This leads to constructing inappropriate halls, classrooms, boardrooms, offices, etc.
DEMAND PROPER ACOUSTICS
The importance of proper acoustics is overlooked. People forget to insist on having good quality acoustic conditions when listening to or performing music, giving a lecture, working, resting, etc. This suggests that we do not care about the quality of our environment and the potential harm to our health.
OUR MISSION
It is important to understand the physical properties of sound, its propagation in space, and its interaction with other materials. The mission of MK3 is clear - we are here to help create efficient acoustic solutions, and we have all the necessary knowledge, tools and experience to do it!
NIKA ŠUBIC, MAG. DIPL. INŽ. GRAD.
Project manager for noise control
DR. ROK PRISLAN, MSC ENGINEERING ACOUSTICS
Project manager for room acoustics
ZDENKA ŠUBIC, UNIV. DIPL. INŽ. GRAD.
Construction projects manager
ANDREJ ŠUBIC, UNIV. DIPL. INŽ. GRAD.
CEO, project integration manager
Do you wish to know more about acoustics?
Read more
Past projects
Professionalism, expertise, reliability
Selection
Room acoustics
Measurements
Noise control
R&D, consultancy
Turnkey
2019
2018
2017
2016
2015
2014
2019 // KIMC - POLZELA (SLOVENIA) // ROOM ACOUSTICS DESIGN // UNIPROJEKT d.o.o.
Selection / Room acoustics / 2019
2019 // GIG MUSIC AGENCY // CONSULTANCY, DESIGN AND SUPERVISION // SOUNDPROOFING AND ROOM ACOUSTIC TREATMENT OF MUSIC REHEARSAL ROOMS
Selection / Room acoustics / Noise control / 2019
2018 // SLOVENIAN COURT ROOMS // STI AND REVERBERATION TIME MEASUREMENTS, DESIGN OF ROOM ACOUSTIC TREATMENT
Selection / Room acoustics / Measurements / 2018
2018 // TSE D.O.O. // HOME CINEMA // DESIGN OF ROOM ACOUSTIC TREATMENT AND PROJECT INTEGRATION
Selection / Room acoustics / Measurements / 2018
2018 // GRAFIST D.O.O. // OLYMPIC SWIMMING POOL KOPER // ROOM ACOUSTICS DESIGN
Selection / Room acoustics / 2018
2018 // Best Gold Bet d.o.o. // TRAFFIC NOISE MEASUREMENT AND NOISE BARRIER DESIGN
Selection / Noise control / 2018
2017 // VITUSAUDIO (DENMARK) // ACOUSTIC TREATMENT DESIGN OF A HIGH END LISTENING ROOM INCLUDING ROOM ACOUSTIC MEASUREMENTS AND ROOM MODES VISUALIZATION
Selection / Room acoustics / Measurements / 2017
2017 // SCAPELAB // CUKRARNA CULTURE CENTER LJUBLJANA // ROOM ACOUSTIC DESIGN
Selection / Room acoustics / 2017
2016 // STATISTICAL OFFICE OF SLOVENIA // CALL CENTER ROOM ACOUSTIC TREATMENT // TURNKEY PROJECT
Selection / Room acoustics / Noise control / 2016 / Turnkey
2016 // HD-MULTIMEDIA ZAGREB (CROATIA) // ROOM ACOUSTIC MEASUREMENT AND ANALYSIS OF A HI-FI LISTENING ROOM, ROOM MODES VISUALIZATION
Selection / Room acoustics / Measurements / 2016
2015 // LARGE HALL OF THE SLOVENIAN PARLIAMENT // SPEECH TRANSMISSION MEASUREMENT
Selection / Measurements / 2015
2015 // KIC 18.SEPTEMBAR NIKŠIĆ (MONTENEGRO) // MULTIPURPOSE HALL // ROOM ACOUSTIC MEASUREMENT
Measurements / 2015 / Selection
MK3 STORITVE D.O.O.
Write, call, enquire, request quote!
Company Information:
Registration no.: 2098318000
Identification no.: SI98798723
IBAN: SI56 3300 0000 0909 172 (Addiko Bank d.d.)
Contact
+386 40 162926